Site Support
Site Support is included free of charge with your GIS247 licence.

Site Support takes the form of email and the "Contact Us" form on the website to resolve any problems with the operation of the website or technical issues with the course/module assets. The Support email address is clearly shown on each users My GIS247 home page when they have logged in.
We have a team of highly skilled GIS trainers who are very experienced and available to support you in your elearning.

The types of query covered by Site Support include :-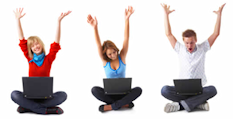 1) The pdf for a specific exercise won't download properly.
2) The link to a course does not seem to work.
3) I'm not sure how to unzip the data file for an exercise. Can you help?
4) I'm stuck on this bit in the exercise. What do I need to do?
5) In the current exercise, I don't seem to be able to select a feature. What do I need to do that I have missed?
We will respond to Site Support issues within 24 hours.